DAVE, in its self-perception, is a network, open for everyone who wishes to engage themselves culturally and artistically. In its legal form, DAVE is registered association.
The association is the organiser and promoter of the DAVE festival as well as the DUDE Open Air and DAVE PIONEERS. It was founded in 2016 in order to "support art and culture". This purpose is charitably recognised, and the association is registered in the association register of the City of Dresden. DAVE holds the 2016 promotional award of the City of Dresden, made the 2nd place in the election for the "Association of the Year 2018" in the category "Culture" and won the TEDxDresden 2019 Award in the category "Art and Culture".
Mission
The association proclaims explicitly to electronic music, though sees it rather as a gateway to the dialogue with various forms of art and music, dance and visual art. This goes along with the aspiration to cooperate with the various promoters of those arts.
Both institutions and venues that operate in the field of club culture and those that operate outside it are integrated. Subcultural formats take place in high cultural locations, but also in venues with a completely different primary purpose. This creates entirely new productions, blurring the lines between the fields. Those cooperations are partially already established, but are constantly being newly developed throughout the process.
Just as electronic music and club culture are tightly connected to one another and work as a part of the urban nightlife economy, Dresden's club culture has been an inherent part of the local art and culture landscape. Clubs are cultural places. They have cultural and socio-political relevance. Until now, club culture has tended to be perceived as a niche, although in recent years a gradual change is taking place at various levels of the city of Dresden. Together with the Tolerave e.V. and the Klubnetz Dresden e.V., DAVE e.V. aims to promote this change and to sustainably perpetuate the artistic and socio-political relevance of the local club culture.
ORGANISATION – A network with professional structures
The association counts 21 members (state: January 2021). Members of the executive board are Christoph Wetzel and Thomas Baumann. Oliver Hartmann acts as the financial officer. The DAVE core team (members of the association as well as freelance members) honorarily organises the festival, the DUDE Open Air and DAVE PIONEERS and is in charge of networking. In addition, there are other committed individuals who take on content-related and/or organisational tasks on specific occasions.
Social variety and an immanent professional aspiration are the basis for DAVEs personnel structure. Many of the protagonists are DJs, musicians, producers, crew members, label owners, bookers or promoters. Plus, there are more committed individuals with various professional backgrounds. All of them are united in the passion for electronic music and club culture as well as a whole lot of idealism.
The organisation of DAVE orientates itself on modern project management with a grassroots democratic decision-making structure. The centrepiece are the regular group meetings. Here, organisational, content-related and programmatic topics are discussed. The decisions then are executed by our 11 work groups.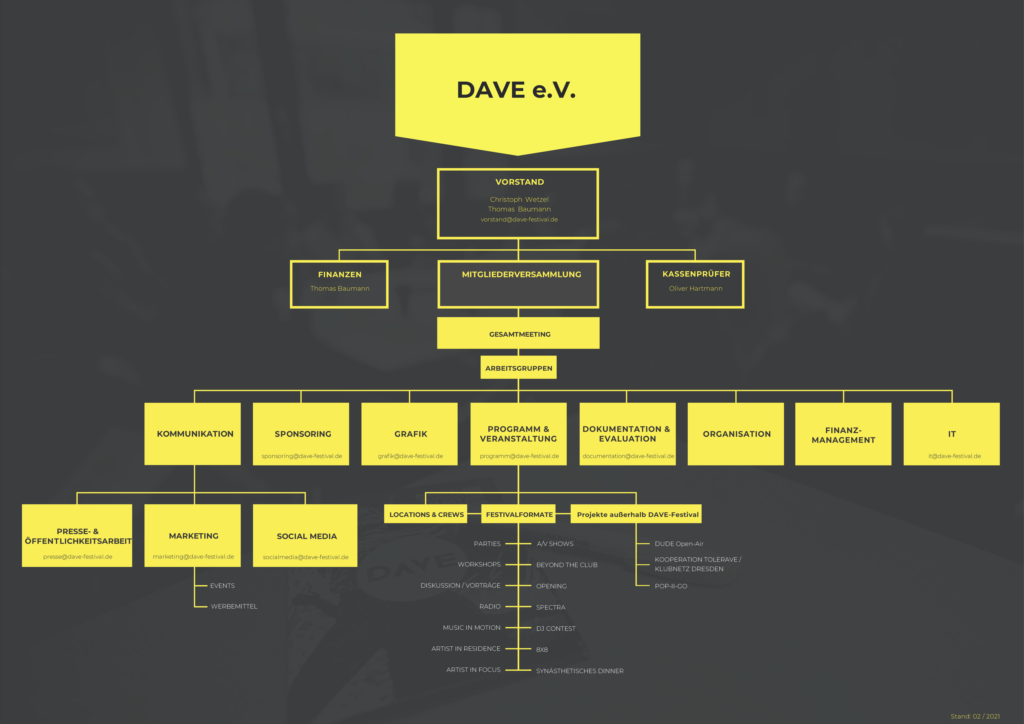 SUPPORT
The association DAVE e.V. is open to all individuals, who wish to engage culturally and artistically. Find out about the possibilities to become a DAVE member here.
DONATE
Every single donation counts and is important. We will issue a donation receipt upon request at the end of the year. Regular donations are especially important, in order to plan ahead.

Donations account DAVE e.V.
IBAN: DE91 8505 0300 0221 1792 24
BIC: OSDDDE81XXX
Bank: Ostsächsische Sparkasse Dresden
Donations via PAYPAL
www.paypal.me/DAVEFestival
HONORARY WORK / TIME DONATIONS
Our projects cannot be realised without those individuals committing themselves to DAVE after work/university/school. Whoever wants to actively shape and decide DAVE, commits themselves with a membership in the association. Every natural or legal person can become a member. The monthly membership fee is 5,00 EUR. You want to get involved? Contact us, or visit us at our yearly MEET&GREET events.
BECOME A SPONSORING MEMBER
Financial support for DAVE is possible through a yearly sponsoring membership with 250,00 EUR. DAVE e.V. can issue donation receipts for the membership fees. The membership application is available through our contact form.